Bangladesh, India, Nepal
The Durga Puja Festival in South Asia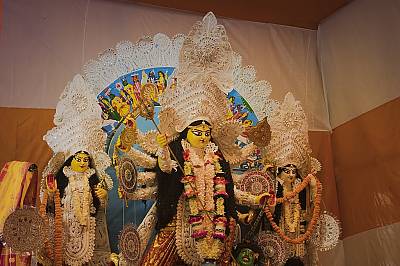 1. ICH domains
Performing arts, social practices, rituals, festive events, knowledge and practices concerning nature and the universe
2. Short description
Held in many parts of South Asia, including India, Bangladesh and Nepal, the Durga festival as celebrated in Bengal is an annual, post-harvest Hindu festival honouring the goddess Durga as the female power inherent in all life, particularly plants and vegetation, celebrating and giving importance to female power.
The festival is a collective occasion to celebrate the generative force of nature and the victory of good over evil. Held over a period of ten days between September and October, the festival features performances, processions, and the construction of elaborately decorated temporary stages (pandal) in shrines and Durga temples, which are ritually submerged in rivers at the end of the festival. Even though the festival is a Hindu one, people of all castes and religions are involved in it, and it is widely celebrated by all groups in society, in both urban and rural areas, bringing about community well-being and harmony. This festival celebration is also called 'Dussehra' in India and 'Dasain' in Nepal.
Further information:
The links below offer more in-depth information on the history and rituals surrounding the Durga Puja Festival:
http://www.durga-puja.org
https://www.britannica.com/topic/Durga-Puja
The following edited volume, 'Emergent Possibilities for Global Sustainability: Intersections of Race, Class and Gender', includes a chapter by Bandana Purkayastha (2016) describing the Durga Puja Festival in terms of the human relationship to nature:
https://books.google.co.th/books?id=fypqDAAAQBAJ&pg=PA98&redir_esc=y#v=onepage&q&f=false
Slideshows and photo essays about the festival:
http://www.thehindu.com/news/cities/kolkata/grandeur-thy-name-is-durga-puja-pandal/article19761617.ece
https://ronmayhewphotography.wordpress.com/2012/09/18/durga-puja-the-worship-of-the-hindu-goddess-durga-returns-to-calcutta-india-part-1/
https://ronmayhewphotography.wordpress.com/2013/10/10/the-potters-of-kumartuli-where-the-durga-puja-story-begins/
3. Link with sustainable development
Durga Puja is a festival which serves as a symbolic and ritualized reminder of human interdependence with nature. As explained by Bandana Purkayastha (2016), the Durga Puja festival promotes awareness about the human relationship with plants, animals and the earth, and the place of humanity within a holistic universe, reflecting SDG 15 on sustainably managing biodiversity and life on land. Moreover, Durga Puja supports sustainable livelihoods through the involvement of artisans and craftspeople who contribute to the construction of the pandals and sculptures, as well as ritual performers, reflecting the aims of SDG 8 of promoting employment and decent work for all.
4. Questions for reflection
Durga Puja sculptures were traditionally made from straw, river clay and banana pith, and painted with natural pigments. Once submerged in the river as part of the ritual, the sculptures would dissolve and return to nature, symbolizing the cycle of creation and return to origins. In recent decades, however, the effigies have been made with toxic paints and non-biodegradable materials, and have grown in scale and degree of elaboration. These changes have led to sustainability risks in terms of the pollution of waterways from the submersion of effigies and the overuse of resources, including electricity.
The following article describes an initiative in India to introduce policies prohibiting the use of toxic paints by distributing organic paints to artisans:
http://www.thehindu.com/todays-paper/tp-national/Paint-with-toxic-chemicals-banned-during-Puja/article12562452.ece
What kinds of initiatives and programs could help raise awareness about the use of sustainable materials in the Durga Puja Festival?