2018 European Year of Cultural Heritage: Engaging Youth for an Inclusive and Sustainable Europe
UNESCO and the European Union have teamed up for a new project to strengthen the connections between young people, cultural heritage and education. The project proposes an innovative approach to education by inviting teachers and learners to explore their living heritage and learn not only about it, but also with and through it. Moreover, the UNESCO-EU initiative will bring together young professionals working in the fields of tangible and intangible cultural heritage for a tailored regional training forum.


2018 European Year of Cultural Heritage: Engaging youth for an inclusive and sustainable Europe
Project description
The project will be implemented over the course of 15 months (January 2019 to March 2020) along two main components:
1. Raising awareness for and learning with intangible cultural heritage in European Schools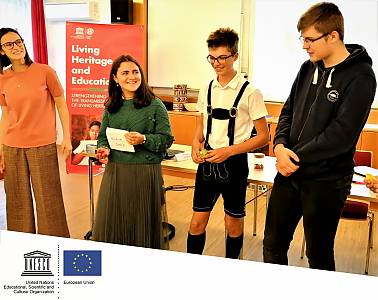 In close collaboration with the UNESCO Associated Schools in Europe (ASPnet members), UNESCO will carry out a series of activities to help schools identify and map the living heritage present in the school community and explore how it can be integrated in lesson plans and extracurricular activities. Global experience has also shown that by using the content of intangible cultural heritage to teach and learn about other subjects such as math, science or literature, schools can emphasize the importance of intangible cultural heritage in everyday life, stimulate students' curiosity and promote safeguarding – all while making learning more exciting and accessible.


As an initial step, UNESCO will launch a survey on the experiences that schools may already have in integrating living heritage in school-based learning. The survey results will be published on UNESCO's web-page in English and French and the experiences identified across Europe will be presented in an interactive map that will allow teachers and learners to discover similar practices in other European countries.


A series of small innovative pilot projects of learning with and through living heritage across different core subjects will be implemented in up to 10 identified ASPnet schools. Teams of one teacher and one learner per school will have the opportunity to learn more about the safeguarding of their living heritage and develop their own projects during a capacity building workshop scheduled for October 2019. All pilot projects will be able to benefit from the guidance of UNESCO trained facilitators. The implementation period will conclude with a workshop, which will bring together all pilot project teams and the facilitators to share lessons learnt and formulate recommendations for the future.


Based on the survey results and the lessons learnt from the pilot projects, a set of awareness-raising and guidance materials for integrating intangible cultural heritage in school-based learning will be developed.
This component targets children and youth aged 11-18 years old in all Member States of the European Union.
2. Empowering and engaging young heritage professionals in the protection and safeguarding of cultural heritage – the European Young Heritage Professionals Forum

"Heritage it is an inherent part of our identity. It is a way to understand each other better" mentioned Victoria Kelly, one of the participants to the European Young Heritage Professionals Forum that gathered young practitioners with a background in both tangible and intangible cultural heritage. Participants came from the 28 Member States of the European Union to discuss the multifaceted realities of working in the field of cultural heritage at the local, national, and international levels.
As a new generation of professionals and Cultural Heritage Messengers, they bonded over a common vision for heritage, in which tangible and intangible heritage are inextricably linked and the active participation of local communities is indispensable for their protection and safeguarding.
The European Young Heritage Professionals Forum took place in Zadar, Croatia, from 20 to 24 May 2019. The Forum was hosted by the Croatian Commission for UNESCO and the Ministry of Culture of the Republic of Croatia - developed in close cooperation with the NGO Diadrasis.
Read more about the Forum here

Expected impact of the project
Initiated in the context of the European Year of Cultural Heritage (EYCH2018), the joint project will contribute to furthering the long-term objectives of the Year by encouraging and stimulating young people to explore their cultural heritage and actively participate in its safeguarding and transmission.


The UNESCO-EU project hopes to stimulate knowledge sharing and understanding of cultural heritage among young people, as well as critical thinking on the function and meaning of heritage in their lives and the lives of their families, communities and societies. The project activities will furthermore provide examples of safeguarding cultural heritage through education, underlining its contribution to building an inclusive and sustainable Europe.


Upon completion of the project, schools, learners and young heritage professionals are expected to have a better understanding of the diversity of their cultural heritage and its importance for the future, and to be empowered to participate in its preservation and safeguarding.