China
Chinese traditional architectural craftsmanship for timber-framed structures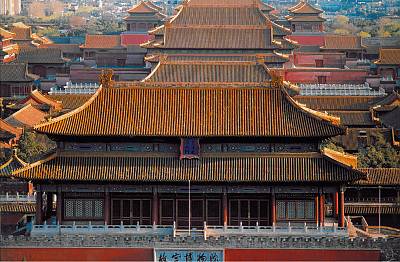 1. ICH domains
Oral traditions and expressions, traditional craftsmanship

2. Short description
A distinctive symbol of Chinese architectural culture, timber-framed structures are found throughout China. The wooden components are connected by tenon joints in a flexible, earthquake-resistant way, creating strong frames that can be installed quickly at the building site by assembling components manufactured in advance. Craftsmanship also includes ornamental woodworking, tile roofing, stonework, decorative painting and other arts passed down from masters to apprentices through verbal and practical instruction. Used today mainly in the construction of structures in the traditional style and in restoring ancient timber-framed buildings, Chinese traditional architectural craftsmanship for timber-framed structures embodies a heritage of wisdom and craftsmanship and reflects an inherited understanding of nature and interpersonal relationships in traditional Chinese society.  This building style has become a central visual component of Chinese identity both for the people who have lived in such spaces for generations, and for the carpenters and artisans who continue this building style. This element was inscribed in 2009 on the Representative List of the Intangible Cultural Heritage of Humanity.
Further information:
Link to the nomination file on the Representative List:
https://ich.unesco.org/en/RL/chinese-traditional-architectural-craftsmanship-for-timber-framed-structures-00223
Links to a short film and an article illustrating their earthquake resistance and related techniques:
https://www.youtube.com/watch?v=LDbZsDEnDXo
3. Link with sustainable development
Chinese traditional architectural craftsmanship for timber-framed structures are today mainly applied to the construction of structures in the traditional style and to restoring ancient timber-framed buildings. The techniques involved have, however, increasingly become part of earthquake engineering (the science of building and maintaining structures to withstand seismic effects). Wooden buildings are also being progressively recognised as a potential solution for making cities more sustainable, requiring less carbon emission in their construction and having good earthquake-resistant characteristics. These broadly reflect Agenda 2030's SDG 9 of building resilient infrastructure, as an innovative form of sustainable industrialisation as well as reflecting SDG 11 of making cities inclusive, safe, resilient and sustainable.
For further information on the ways wooden buildings may help make cities more sustainable:
https://www.seeker.com/earth/climate/high-rise-wooden-buildings-may-be-a-way-to-make-cities-more-sustainable
4. Questions for reflection
In China and elsewhere, globalisation and urbanisation, and the favouring of modern construction methods have had a negative impact on traditional architectural construction. Low pay and heavy work have translated into a diminishing number of practitioners. As one of several safeguarding measures, courses on Chinese traditional architecture are now offered to students majoring in architecture in some schools at the tertiary level and in a number of secondary vocational schools, where teachers and students conduct research on the topic.
There are also limitations and risks associated with traditional timber-framed structures, which include wood scarcity, termite attacks, effects of moisture, and susceptibility to lightning and fire.
Do you know of other traditional architectural craftsmanship? If so, what significance do these have for the bearers?
How could development policies and programmes support the safeguarding of this type of intangible cultural heritage?
Do you think the core technique of this element such as the tenon joint, can be applied to the construction of wooden-structured buildings in other parts of the contemporary world?