Online meeting of experts (Category VI) in the framework of the global reflection on the listing mechanisms of the 2003 Convention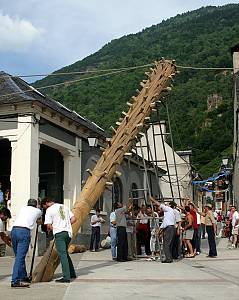 Mise en place du haro. L'effort solidaire, la participation de toute la population, le rapprochement, les retrouvailles, le respect mutuel, la générosité, font de ce rituel un moment de communion collective
Read more on the element
© Ester Sirat 2012
A consultation with experts will be organized over the month of May 2021. This will include an online meeting of experts to be organized on 7 May (Part I) as well as on 26 and 27 May (Part II). Based on their profiles and respecting geographical and gender balance, some of the experts invited to complete the survey will be also invited to participate in this online meeting.
On 7 May (Part I), the Secretariat will present the results of the online survey and background information regarding the listing mechanisms of the 2003 Convention and constitute breakout groups. Between 8 and 25 May experts will be invited to work in breakout groups focused on one of the four main themes of the reflection:
Theme A: overall approach to the listing mechanism
Theme B: issues related to the criteria of inscription
Theme C: issues related to the follow-up of inscribed elements
Theme D: methodology for the evaluation of nominations
The purpose of the breakout groups is to reflect in depth on the issues identified and propose alternative approaches for improving the listing system. The results of the breakout group's work will be presented in the form of preliminary recommendations for discussion during the plenary sessions of the expert meeting on 26 and 27 May (Part II). A set of final recommendations resulting from the experts meeting will lay a basis for the discussions of the open-ended intergovernmental working group to be organized from 8 to 10 July 2021.
The working documents for the expert meeting will be published on this page by 23 April 2021.
In addition to the experts to be invited as the main participants, the plenary meeting of experts will be made accessible to other experts from States Parties as observers pursuant to Decision 14.COM 14
Documents
Technical note: Join Microsoft Teams as a guest: English|French
Technical note: Collaborate on a file in Microsoft Teams: English|French
Powerpoint Presentation Secretariat: English|French
Powerpoint Presentation Eva Kuminková: English|French