UNESCO-Samsung Partnership for the Intangible Cultural Heritage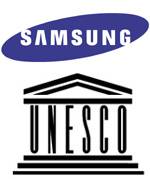 In December 2004, UNESCO and Samsung Electronics Co., Ltd. signed an agreement for promoting and safeguarding intangible cultural heritage, in view of Samsung's interest in making available its corporate resources and networks for the sake of cultural diversity, and in particular for the intangible heritage worldwide.
The agreement included the production and broadcasting by BBC World of short vignettes on intangible heritage from around the world and a 45-minutes-long documentary on selected elements of intangible heritage now listed on the Representative List of the Intangible Cultural Heritage of Humanity. Samsung's support also made possible :
the organization of an Exhibition on intangible heritage at Expo 2005 Aichi (Japan),
the development of this website,
the production of a photo series on the intangible heritage elements inscribed on the Representative List, and
the publication of basic texts necessary for the implementation of the Convention for the Safeguarding of the Intangible Cultural Heritage.