18 August 2021
Without a doubt, the slave trade has heavily impacted culture and its manifestations. Living heritage has therefore been shaped and reshaped by such history. As a result, many Intangible Cultural Heritage (ICH) elements are directly linked to the history of the slave trade. Thus, living heritage allows us to reflect upon the tragedy of the slave trade through another lens. Discover below some ICH elements that were heavily influenced by slave trade history.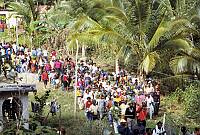 Maroon heritage of Moore Town

Situated in the highlands of eastern Jamaica, Moore Town is home to the descendants of independent communities of former runaway slaves known as Maroons. The African ancestors of the Moore Town Maroons were forcibly removed from their native lands to the Caribbean by Spanish slave traders in the sixteenth and seventeenth centuries.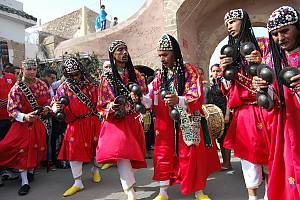 Gnawa

Gnawa refers to a set of musical events, performances, fraternal practices and therapeutic rituals mixing the secular with the sacred. Gnawa is first and foremost a Sufi brotherhood music combined with lyrics with a generally religious content, invoking ancestors and spirits. Originally practiced by groups and individuals from slavery and the slave trade dating back to at least the 16th century, Gnawa culture is now considered as part of Morocco's multifaceted culture and identity.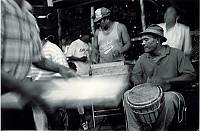 Maloya

Maloya is a form of music, song and dance native to Réunion Island. Of mixed racial origins since its outset, maloya was created by Malagasy and African slaves on the sugar plantations and was eventually appropriated by the whole of the island's population. Although originally dedicated to ancestral worship as part of a ritual, maloya has gradually over time become a song of lament against slavery, and for the past thirty years it has represented the island's identity.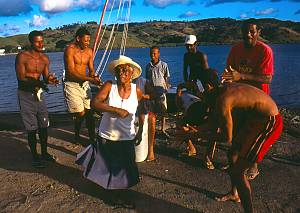 Samba de Roda of the Recôncavo of Bahia

The Samba de Roda, which involves music, dance and poetry, is a popular festive event that developed in the State of Bahia, in the region of Recôncavo during the seventeenth century. It drew heavily on the dances and cultural traditions of the region's African slaves. The performance also included elements of Portuguese culture, such as language, poetry, and certain musical instruments.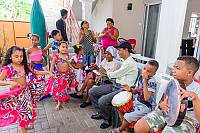 Sega tambour Chagos

Sega tambour Chagos is one of the types of Sega music of Mauritius, with origins in the Chagos Archipelago. Like other Sega music, it is born from slavery and sung in Chagossian Creole particular to the islands. The lyrics consist of everyday experiences, often composed spontaneously, including narrations of sadness, happiness and rebellion.

To find out more about the inextricable link between living heritage and the tragedy of the slave trade, dive into living heritage using the concept "slavery" and discover more on our thematic page.
Related themes