15 June 2021
The project's component "Community-based inventorying of intangible cultural heritage related to traditional income-generating activities in Old Tbilisi" implemented in collaboration with the Georgian Heritage Crafts Association is coming to an end. To celebrate the project's accomplishments, 20 short videos featuring the ICH stories in Old Tbilisi produced as a key outcome of the project will be screened on 19 June at a public presentation to be held at the Upper Bethlemi Church Terrace in Tbilisi. The event, thanks to its hybrid format, will provide an opportunity to bring together community members, representatives of cultural sector and local authorities and present the project results to the wider public. The event will also mark the start of the "Online Festival - Tbilisi ICH Week", which aims at raising public awareness about the importance of safeguarding the living heritage in a urban environment such as Tbilisi.
As Mr. Teimuraz Jalaghania, pictured above, says "Today people like us were often forgotten, and when the masters feel lost and forgotten, they get discouraged and might think to give up. But real masters are 'stubborn' enough to continue their work no matter what happens, they will follow their path until the end of their days, but the more they value us, the more we are willing to do."

Project activities were carried out from November 2020 to June 2021 and included meetings with local community members, capacity-building activities led by International facilitators, community-based inventory exercises, which involved audio-visual and narrative documentation and production of promotional videos.
Following a series of online capacity-building workshops, a project team composed of 10 young local facilitators was formed and extensive fieldwork was carried out, including interviews with professional organizations and networks, community representatives of different ethnic Diasporas, as well as online questionnaires distributed through social media. As a result, more than 40 ICH elements were identified and a database for Tbilisi ICH bearers was created.
Discover his experience and more by following the public presentation live streamed on Facebook.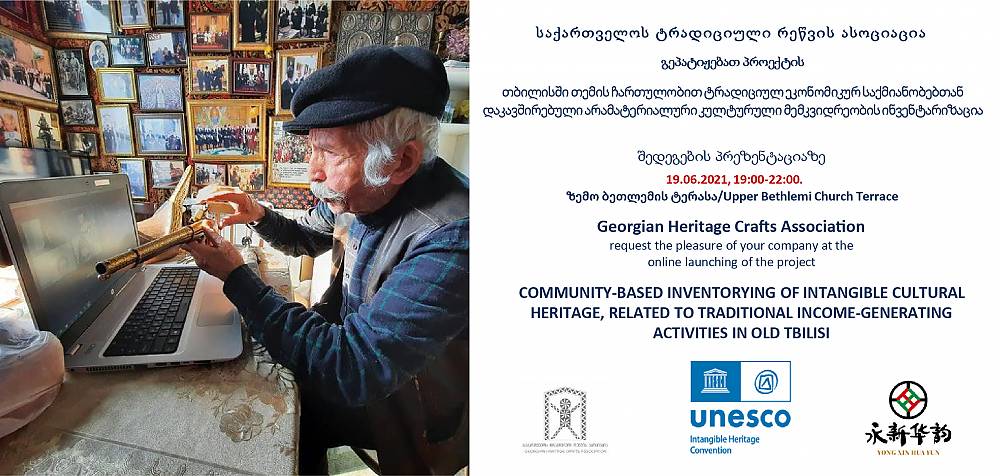 Related themes