Bangladesh
Mangal Shobhajatra Festival in Bangladesh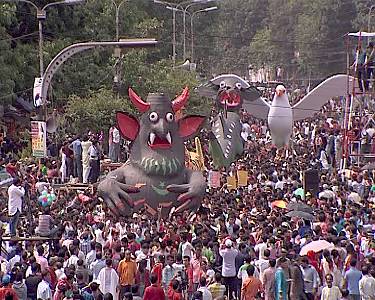 1. ICH domains
Performing arts, festive events, traditional craftsmanship
2. Short description
In the 1980s, when several incidents, including devastating floods and the imposition of military rule threatened the peace and security of Bangladesh, students and teachers of Dhaka University's Faculty of Fine Arts decided to creatively respond to political unrest and bring people hope for a better future. In 1989, they organized a secular procession entitled Mangal Shobhajatra (which in Bengali means 'procession for well-being'), to take place on the first day of the Bengali New Year (or Pahela Baishakh). Members of the university faculty work together before the festival to create masks and floats, which are said to drive away evil forces and allow for progress. Among works made for the festival at least one represents evil, another courage and strength and a third, peace. Items to sell on the day of the procession are also produced as a source of funding, such as folk art paintings. The Mangal Shobhajatra festival symbolizes the pride the people of Bangladesh have in their cultural heritage, as well as their strength and courage to fight against sinister forces, and their desire for truth and justice. The festival contributes to maintaining and restoring peace and security by uniting people irrespective of caste, creed, religion, gender or age and by promoting harmony and solidarity.
Further information:
For additional information on the procession and its meaning, see:
https://ich.unesco.org/en/RL/mangal-shobhajatra-on-pahela-baishakh-01091
http://www.theindependentbd.com/printversion/details/89997
3. Link with sustainable development
Mangal Shobhajatra takes on a specific theme each year, revolving around three aspects: oppression and evil force, courage and strength of the Bangladeshi, and peace and solidarity. These aspects highlight the potential of intangible cultural heritage to re-establish safety and security, reconcile parties, and restore peace and reflect the aims of SDG 16 to foster peaceful, just, and inclusive societies for sustainable development.
4. Questions for reflection
A risk related to the growing popularity of Mangal Shobhajatra is its over-commercialization. While the procession is particularly interesting in its ability to transcend its message beyond local boundaries and motivate many people — including children — to share in the experience and stand for peace, ever-growing participation could put at risk the intangible cultural heritage concerned. In addition, fundamentalists in this Muslim-majority nation have called for the festival's cancelation, saying it promotes non-Islamic values. Such positions pose a potential risk for the non-religious, trans-communal celebration of Bengali identity highlighted by Mangal Shobhajatra. See the following link for more information:
http://www.benarnews.org/english/news/bengali/new-year-04132017170749.html
What are some measures that could be put in place to avoid over-commercialisation in the context of the festival?
What is the community doing about this challenge? Do you know of other such festivals which put in place measures to avoid over-commercialisation?