India
Indian Yoga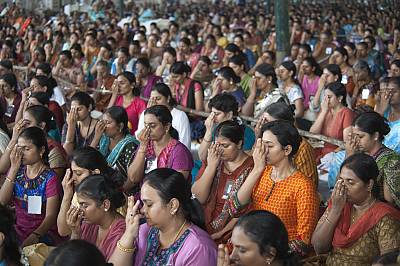 1. ICH domains
Oral traditions and expressions, performing arts, social practices, ancient scientific and medical knowledge of humanity
2. Short description
Yoga is an ancient Indian practice, which seeks to unify the mind and body, and bring about spiritual well-being and physical health to its practitioners. Through breathing techniques, meditation, poses and chanting, yoga practitioners can alleviate suffering and achieve a state of liberation, or Moksha. There are well-documented benefits to practicing yoga, from better flexibility to improving muscle tone, as well as better breathing and lowering blood pressure and cholesterol.
Scriptures trace the history of Yoga to the Saraswati Valley civilization, dating to 2700 BC. Traditionally passed from yoga gurus to their pupils, today yoga is transmitted through hermitages, universities, schools, community centers and social media, supporting the health and well-being of millions of people in India and around the world.
Indian Yoga was inscribed on the UNESCO Representative List of the Intangible Cultural Heritage of Humanity in 2016.
Further information:
The following links provide more detailed information on the history and contemporary practice of yoga (all in English):
https://ich.unesco.org/en/RL/yoga-01163
http://www.mea.gov.in/in-focus-article.htm?25096/Yoga+Its+Origin+History+and+Development
https://thediplomat.com/2015/05/indias-soft-power-potential/
https://www.youtube.com/watch?time_continue=1&v=WsfQBF6neJE
3. Link with sustainable development
Yoga's time-tested capacity to improve the mental and physical wellbeing of its practitioners represents a major contribution to SDG 3, focused on ensuring healthy lives and promoting well-being for all at all ages. Indeed, the spread of yoga from India to countries around the world constitutes a potential betterment of health for all people, regardless of age, gender, class or religion. Moreover, in 2015 the United Nations declared June 21 as the International Day of Yoga. In addition to the many health benefits, the global popularity of yoga also contributes to SDG 16 relative to peaceful and inclusive societies.
4. Questions for reflection
A significant challenge related to the growing popularity of yoga is its over-commercialization. Critics of the commercialization of yoga argue that the yoga industry is increasingly profit-driven, leading to a weakening of the core values of mental health and well-being. The following articles discuss the challenges facing yoga in terms of its commercialization:
https://www.huffingtonpost.com/2013/12/16/how-the-yoga-industry-los_n_4441767.html
https://www.huffingtonpost.com/justin-hakuta/commercialization-yoga_b_1243424.html
What could be effective ways to curtail the negative effects of the commercialization of yoga? What could be done by practitioners or other stakeholders in this regard?
What other challenges for transmission do you see if the scope and scale of a practice increases as drastically as this one?
What other challenges do you see, of the scope and scale of a practice like yoga as it increases with a permanently growing number of practitioners?
https://thediplomat.com/2016/04/the-politics-of-yoga/