Date
02/05/2011 - 05/05/2011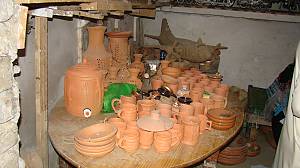 Within the framework of UNESCO's global capacity-building strategy for the implementation of the UNESCO Convention for the Safeguarding of the Intangible Cultural Heritage (2003), a four day training session was held in collaboration with PNCA (Pakistan National Council of the Arts), Islamabad from 2-5 May 2011. A second Training Session was also held on 25th June 2011 at PNCA, which focused on the preparation of the Urgent Safeguarding Lists, Representative List and Best Practices within the framework of the Convention. The details for the related workshops are below.
WORKSHOP 1: 2-5 MAY 2011
A four day training session was held in collaboration with PNCA from 2-5 May 2011. There were thirteen participants including staff members of PNCA, Lok Virsa (The National Institute of Folk & Traditional Heritage), and two journalists. The training session focused on National Implementation and Community-based inventorying components, which was delivered through lectures and field visits. The presentations for this component of the Training were based on the material generated by UNESCO Intangible Cultural Heritage Section, Paris, which was tailored to the Pakistani situation. Lectures/presentations were made by Sajida Vandal supported by a lecture given by Yawar Ansari on the GIS Cultural database system and a presentation by Abid of the Mardan University, who was earlier the field coordinator for the Cultural Mapping of North-West Frontier Province (NWFP) of Pakistan. A presentation was also made by Adnan, Jawad (UNESCO staff) and Abid on the Cultural Mapping template, equipment and sharing of experiences gained through their work in KP.