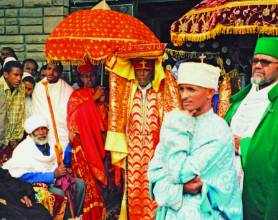 UNESCO launched a four-year project to collect and inventory music and dance traditions throughout Ethiopia. As a first step in the compilation of a more comprehensive national inventory encompassing all aspects of Ethiopia's intangible cultural heritage, the project aimed at building local capacities and document living practices and traditions.
In order to guarantee the continuation of the work by Ethiopian specialists, courses in ethnomusicology were organized at the University of Addis Ababa and the Yared Music School using specifically designed curriculum materials in English and Amharic. Training in inventorying music and dance began in 2006 with "The Musical Landscape of Addis Ababa", a survey of the various Ethiopian traditions found in the capital. Students then joined European specialists who were already working in the field to study traditions and practices in different regions. Activities included conducting research among the Maale people of southern Ethiopia and organizing training in the use of equipment for multi-track polyphonic recording for the staff of the South Omo Museum and Research Center in the town of Jinka. Numerous centres and museums around the country have received training and equipment adapted to their particular needs.
By the project's completion, a generation of Ethiopians has been trained to carry on the national intangible cultural heritage inventory by including other domains while also raising awareness of the importance of intangible cultural heritage among local and national authorities thus contributing directly to the long-term safeguarding of Ethiopia's living heritage.