Photo Exhibition - Living Heritage in Addis Ababa
Dates: 28 November – 2 December 2016
Place: Economic Commission for Africa Conference Centre
Opening of exhibition: 28 November at 5:30 p.m. (Addis Ababa local time)
Through the lens of two young Ethiopian photographers, this event unveils a sample of Addis Ababa's rich living heritage, highlighting the diversity of traditional practices, knowledge and skills embedded in the everyday life of communities living in the city. The exhibition, co-organized by UNESCO and the Ethiopia's Authority for Research and Conservation of Cultural Heritage, is a timely reflection on the importance of safeguarding intangible cultural heritage for sustainable urban development.
Exhibition curated by
Photographers
Roundtable - Learning with intangible cultural heritage in education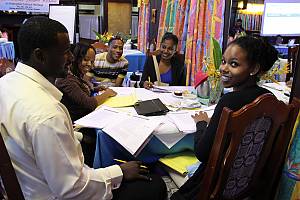 Date: 29 November 2016, 1:15 – 2:30 p.m. (Addis Ababa local time)
Place: Conference Room I, Economic Commission for Africa Conference Centre
Live webcast in English and French at 1:15 – 2:30 p.m.
Concept note: English|French
The event will address the valuable role teachers and education can play in safeguarding intangible cultural heritage and explore how intangible cultural heritage can be an incredibly rich resource for achieving quality education. Panelists will share recent experiences from UNESCO and States Parties on intangible cultural heritage in education, encourage discussion and generate interest and ideas for future work on this topic.
With the participation of: Jyoti Hosagrahar, Director, Division for Creativity ● Yumiko Yokozeki, Director, International Institute for Capacity Building in Africa ● Tim Curtis, Secretary, Convention for the Safeguarding of the Intangible Cultural Heritage ● Mahama Ouedraogo, Acting Director, Department of Human Resources, Science and Technology, African Union Commission ● Sajida Vandal, UNESCO Facilitator, Project 'Learning with intangible cultural heritage for a sustainable future' ● Nigel Encalada, Director, Institute for Social and Cultural Research of the National Institute of Culture and History, Belize ● John De Coninck, Technical Advisor, Cross-Cultural Foundation of Uganda.