UNESCO visits India ahead of the Durga Puja in Kolkata
Tim Curtis, Secretary of the 2003 Convention, and Eric Falt, Director of UNESCO New Delhi, discovered the intense preparations ahead of the Durga Puja in Kolkata, India, during a mission.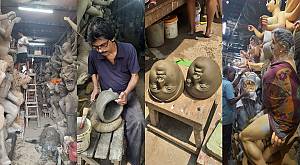 Durga Puja is a festival celebrated annually in Kolkata, in West Bengal, and in other parts of India. After a disruption of two years due to COVID-19, the 2022 celebrations are taking place from 1st to 5th of October. In the months preceding the festival, small artisanal workshops sculpt images of the goddess Durga and her family using unfired clay pulled from the Ganga River. A massive rally was organized by local authorities for the occasion, showing the importance of the inscription of the element on the Lists of the 2003 Convention and how meaningful it is for the communities. UNESCO team members also had the pleasure to visit bearers' workshops where idols-making ('Kumartuli') is taking place. Pictures on the right show the artisans demonstrating their savoir-faire in situ.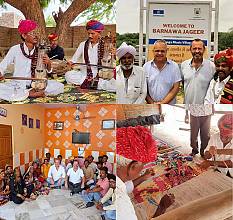 A visit to the villages Barnawa Jageer, Chopasani, and Salawas in Rajasthan was also organized as part of the ongoing project that aims to promote community-based responsible tourism. UNESCO New Delhi has been coordinating this project for many years, first starting in West Bengal and now taking place in Rajasthan, in cooperation with local stakeholders. Tim Curtis and colleagues from UNESCO New Dehli were met with Kalbelia folk songs and dances of Rajasthan, inscribed on the Representative List in 2010, as part of a 'village festival', an initiative set-up as part of the project. Other festivals will follow in villages in the region. For the occasion, other local traditions were displayed, notably langa musicians and dhurrie weavers, as pictured on the left. This project contributes to the valorization of such crafts and skills by embracing a sustainable tourism approach to the safeguarding of the rich living heritage in the region.
India ratified the 2003 Convention in 2005. With 14 elements inscribed on the Lists of the 2003 Convention, and 40 properties inscribed on the World Heritage List, India has a diverse cultural heritage, both tangible and intangible. It is also a Committee member (2022–2026).