Committee meeting about to begin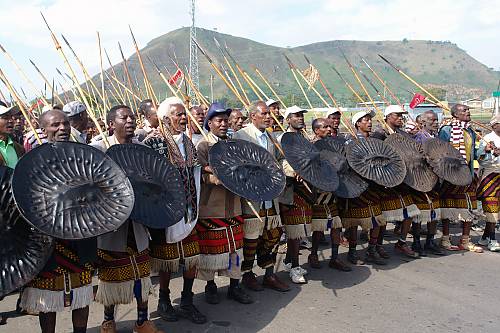 Ketala is a traditional singing and dancing performed by adult male community members, wearing a traditional cloth, known as gonfa, with red, white and black strip colors and buluko (home-spun cotton cloth) and holding spear and shield.
© The Authority for Research and Conservation of Cultural Heritage (ARCCH), 2013
The eleventh session of the Intergovernmental Committee for the Safeguarding of the Intangible Cultural Heritage is approaching. It will take place at the United Nations Economic Commission for Africa Conference Centre in Addis Ababa in Ethiopia from 28 November to 2 December 2016.
This session of the Committee will be preceded by an opening ceremony that is being organized by the Ethiopian authorities to take place on Sunday, 27 November 2016, at 5 p.m. All the participants of the session are welcome.
Participants are also welcome on Monday 28 November at 5:30 p.m., after the close of business of the Committee meeting, to attend the opening of the photo exhibition 'Living Heritage in Addis Ababa'. Co-organized by UNESCO and Ethiopia's Authority for Research and Conservation of Cultural Heritage, the side-event highlights the diversity of traditional practices, knowledge and skills embedded in the everyday life of communities living in Addis Ababa.
Another side-event dedicated to 'Learning with intangible cultural heritage in education' will take place on Tuesday 29 November at 1:15 p.m. at the Conference Centre, addressing the valuable role teachers and education can play in safeguarding intangible cultural heritage.
A Forum will also be organized by NGOs on Sunday, 27 November from 9 a.m. to 12 p.m. on the theme: Challenges for NGOs in the Promotion of ICH values, which will be open to all members of the Forum.