Contributor
National Heritage Board
The COVID-19 pandemic has impacted the way living heritage practices in Singapore are carried out by the community. The implementation of safe-distancing measures and the subsequent suspension of large gatherings has meant that various social practices, rituals and festive events in the months of March to May 2020 had to be either cancelled, carried out within the confines of households or observed via online platforms such as video streaming services.
The community has shown resilience in adapting to the situation to continue their practices, and further highlights the important role that ICH plays in keeping communities together during challenging times. The following examples illustrate how various diverse communities in Singapore have adapted and coped with the current COVID-19 situation and continued their religious and cultural practices.
Ramadan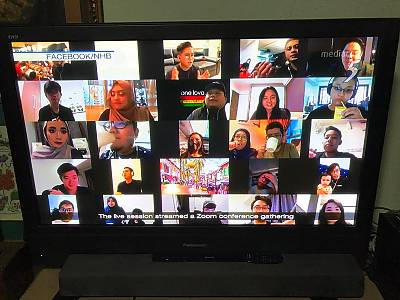 The month of Ramadan is the holiest month of the year for Muslims around the world as it is in Singapore. During this period, Muslims fast from sahur (sunrise) to iftar (sunset), as part of their religious beliefs in terms of strengthening their self-control and inculcating greater compassion for others.
In Singapore, Ramadan is typically characterised by several social-cultural practices involving families and the wider community. Throughout the month, families often gather together to break fast at iftar, or head to one of the many Ramadan bazaars around Singapore, where a wide range of cultural food and products are sold in preparation for Hari Raya Puasa which marks the end of the fasting month.
Ramadan takes place between 24 April to 23 May 2020 and has since been greatly impacted by the COVID-19 pandemic. In addition to the closure of mosques and cancellation of bazaars, families are not allowed to interact outside of their immediate household.
To foster a sense of togetherness amongst the local Muslim community during these difficult times and to help raise awareness of Ramadan to non-Muslims, the National Heritage Board (NHB) introduced a month-long campaign titled #RamadanTogether to take Ramadan to the digital space. Anchoring the campaign is the website (https://www.roots.sg/ramadan) that provides a comprehensive writeup of the ICH practices of Ramadan, along with links to online events that would be conducted via video or live-streaming platforms throughout the month.
One of the recently concluded events was "Iftar Together", a Facebook Live session that took place on 9 May 2020. Led by three Malay-Muslim celebrities from OkLetsGo, one of the top podcasts channels in Singapore, this hour-long session saw both Muslim and non-Muslims convene in the digital space to share about what Ramadan means to them, and how the community is adapting and coping with the pandemic. There was also a Question & Answer session regarding the practices of Ramadan, and the session ended with participants breaking fast together as a community.
Through the rest of Ramadan, NHB will continue to engage audiences and the Muslim community online by hosting various programmes such as a live-cooking demonstration of festive foods and a concert featuring professional and amateur musicians in Singapore.
Concurrently, the Malay Heritage Centre, a heritage institution under the NHB, also launched the #OnXOnRayaFest campaign to engage the public by offering bite-sized information on Malay heritage and culture, as well as showcasing family recipes for the breaking of fast and featuring other cultural content related to Ramadan and Hari Raya Puasa.
#RamadanTogether Website https://www.roots.sg/ramadan
#RamadanTogether Facebook Events Page https://www.facebook.com/events/1676395235833903/?active_tab=discussion
'Iftar Together' Facebook Live Video https://www.facebook.com/watch/live/?v=244523776764802
Malay Heritage Centre Facebook Pagehttps://www.facebook.com/malayheritage/
Good Friday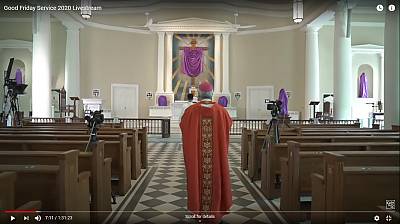 An estimated 18.8% of Singapore's population are Christians spread across various denominations including Catholicism, Anglican, Presbyterian and Methodist. Good Friday, which commemorates the death of Jesus Christ and typically involves large numbers of people gathering at churches across in Singapore, was observed on Friday 10 April 2020.
As a result of COVID-19, religious services and gatherings had been suspended since February. Since then, religious services such as masses have been live-broadcasted through the official websites of the different churches. An example of the online streaming of Catholic services can be found on the website: https://www.catholic.sg.

Online streaming was carried out by churches on Good Friday and the Easter weekend. For example, the procession of Stations of the Cross which typically sees the congregation in church or on outdoor church grounds, was done via a pre-recorded session instead. This is so that worshippers could continue to be part of the worship and do so at their own time during the day.
Livestream of Good Friday Service
https://www.youtube.com/watch?v=be6vcarX-ZA
News articles
https://www.straitstimes.com/singapore/coronavirus-catholic-church-to-suspend-mass-indefinitely-advises-events-to-be-suspended
https://www.channelnewsasia.com/news/singapore/covid-19-outbreak-coronavirus-catholic-church-religion-singapore-12435882
Qing Ming Festival
Qing Ming Festival (清明节) is a festival that is observed by members of the Chinese community in Singapore. The most significant part of the festival is the act of sao mu(扫墓) or "sweeping the graves", where families visit the graves at cemeteries or niches at columbaria of their ancestors to clean their grave sites.
Upon cleaning the graves, families also provide offerings ranging from food, flowers, tea and huat kueh (prosperity) cake, first for the Tu Di Gong (Earth God), then for the wandering spirits of their ancestors. Depending on their beliefs, observers may also light red candles and burn paper offerings, the latter of which is believed to be used by their ancestors in the afterlife.
Qing Ming Festival was to take place on 4 April 2020, with the peak period expected between 21 March to 19 April 2020. However, as a result of COVID-19, both government and private-run columbaria had to introduce various measures in response to the evolving pandemic situation in Singapore. These measures started with advising those who are unwell to avoid taking part in processions at cemeteries and columbariums, restrictions on the group sizes of visitors and, the eventual closure of government columbaria except for essential services like burials and the installations of urns.
To enable families to continue the practices related to Qing Ming Festival, some organisations like Kong Men San Phor Kak See Monastery introduced online services where devotees can order ancestral offerings, and/or book a mass chanting session conducted by the monks, without having to be physically present at the temple. Prior to the closure of columbaria, devotees also did their part by conducting their rituals earlier as part of nationwide safe-distancing efforts.
Government Advisories on Qing Ming Festival
https://www.nea.gov.sg/media/news/advisories/index/public-advisory-for-qing-ming-festival-25mar
https://www.nea.gov.sg/our-services/after-death/qing-ming-2020
News reports on initiatives by Monasteries (private-run columbaria)
https://www.straitstimes.com/singapore/coronavirus-temples-columbaria-devise-alternative-ways-to-observe-qing-ming
https://www.channelnewsasia.com/news/singapore/covid-19-columbariums-ramp-up-precautions-ahead-of-qing-ming-12540516
Tamil New Year
The Tamil New Year of Puthanda, which falls on the first day of the Tamil Calendar, is usually celebrated by Hindu families in Singapore. It is also celebrated by members of the Malaylee (Vishu) and Bengali (Pohela Baishakh) communities using the similar calendar.
Puthanda was set to take place on 14 April 2020, and like many other ethnic or religious celebrations, would have involved members of the Hindu community paying visits to Hindu temples for prayers, buying of traditional goods in cultural enclaves like Little India and gathering with friends and family to usher in the new year.
The COVID-19 pandemic however meant that places of worship like Hindu temples had to be closed, with social gatherings also prohibited. As an alternative, temples under the Hindu Endowments Board (HEB) conducted special online New Year Poojas (prayer rituals) for devotees, while families held their own video conferencing gatherings with relatives while enjoying traditional food.
Advisory from the Hindu Endowments Board (HEB)
https://heb.org.sg/3931-2/
News Articles on Tamil New Year
https://www.straitstimes.com/singapore/tamil-new-year-a-muted-but-meaningful-affair-in-singapore
Vesak Day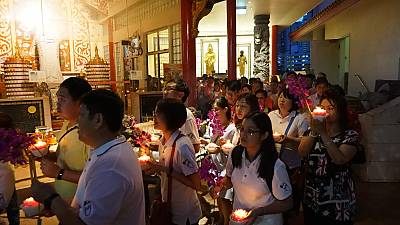 Vesak Day is usually celebrated by major Buddhist denominations in Singapore to commemorate the birth, enlightenment and death of Gautama Buddha and it was to take place on 7 May 2020. On this day, devotees would often gather at Buddhist temples for large-scale prayer ceremonies, and conduct practices such as the bathing of the Buddha statue and the lighting of oil lamps.
Due to COVID-19 related measures, Buddhist temples and groups had to come up with a number of creative ways to engage devotees in the religious practices of Vesak Day. Examples include hosting a Zoom session for a group of 30 Buddhist families to conduct the "Three Step One Bow" ceremony at home and creating online portals for devotees to purchase incense and food offerings for the temple community.
Within their own homes, devotees also carried on their practices by listening to Buddhist talks online, and lighting candles while chanting or meditating together.
News Articles on Vesak Day
https://www.straitstimes.com/singapore/buddhists-turn-to-internet-for-e-vesak-day-during-pandemic
https://www.straitstimes.com/singapore/buddhists-mark-vesak-day-with-virtual-celebrations
Conclusion
The COVID-19 pandemic has reaffirmed the importance of ICH at the social and cultural levels. Despite the challenges arising from the COVID-19 situation, communities have used technology and digital tools extensively to continue with their religious and cultural practices. These digital tools provide viable alternatives to organisations and communities keen to continue with their ICH practices.
The designations employed and the presentation in the texts and documents referenced in this platform do not imply the expression of any opinion whatsoever on the part of UNESCO concerning the legal status of any country, territory, city or area or of its authorities or concerning the delimitation of its frontiers or boundaries.