Date
10/05/2012 - 11/05/2012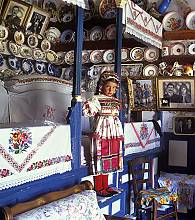 The UNESCO Venice Office, in cooperation with the Hellenic Ministry of Culture and Tourism and the Hellenic National Commission for UNESCO, organized the sixth edition of the annual regional meeting of experts from South-East Europe on Intangible Cultural Heritage "Promoting a shared vision of intangible cultural heritage in South-East Europe". This regional meeting has been an opportunity to present and discuss the implementation of the UNESCO 2003 Convention and national measures for the safeguarding of intangible cultural heritage.
The meeting also allowed for a presentation of best practices in the promotion of shared heritage (multinational candidature files, common research projects, etc) and discussed future joint activities in the area of training and capacity-building, to be developed in conjunction with the new Category II Regional Center on intangible cultural heritage, officially inaugurated in Sofia, Bulgaria, in February 2012.
The conference comprised experts from: Albania; Bosnia and Herzegovina; Bulgaria, Croatia; Cyprus; Greece; Italy; Montenegro; Republic of Moldova; Romania; Serbia; Slovenia; The former Yugoslav Republic of Macedonia, and Turkey.