Date
31/05/2021 - 04/06/2021
The Regional Centre for the Safeguarding of the Intangible Cultural Heritage in South-Eastern Europe under the auspices of UNESCO, jointly with the Hellenic Ministry of Culture and Sports (Directorate of Modern Cultural Heritage), are organizing an online capacity building workshop dedicated to "Developing safeguarding plans for intangible cultural heritage in Greece" within the framework of the UNESCO GLOBAL CAPACITY BUILDING STRATEGY FOR THE INTANGIBLE CULTURAL HERITAGE, between May 31st and June 4th, 2021.
The training at national level will be conducted by two experienced facilitators from the UNESCO's facilitator's global network, Ms Harriet Deacon and Ms Benedetta Ubertazzi, and will be tailored to the hosting country's specific needs.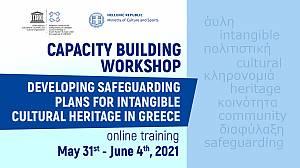 The topics to be developed in the training are: introduction to the UNESCO Convention and its relation to sustainable development; introduction to safeguarding under the 2003 ICH Convention; implementation of the Convention in Greece and requirements for safeguarding plans at a national level; challenges and opportunities for developing safeguarding plans in Greece; an overview step by step of developing safeguarding plans; working with representatives of communities to develop safeguarding plans: examples of approaches; examples of involving communities in safeguarding planning in Greece; developing safeguarding strategies integrating the sustainable development factor; ways of linking the development of safeguarding plans in Greece to the process of Periodic Reporting
Despite the Covid-19 pandemic, the facilitators have prepared a flexible programme. Apart from the foreseen significant group work in intriguing sub-topics, the programme also includes concrete examples from Greece, with the presentation of the participants. Finally, international guests are invited to participate and contribute on specific sub-topics. The training starts on Monday, May 31st 2021 in the Zoom platform.
Programme - English-