Gangneung Danoje festival
Inscribed in 2008 (3.COM) on the Representative List of the Intangible Cultural Heritage of Humanity (originally proclaimed in 2005)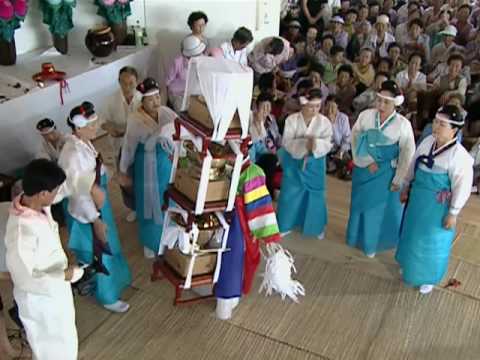 The annual Gangneung Danoje Festival takes place in the town of Gangneung and its surroundings, situated east of the Taebaek Mountain Range on the Korean peninsula.The festival includes a shamanistic ritual on the Daegwallyeong Ridge, which pays tribute to the mountain deity and male and female tutelary deities. It encompasses traditional music and Odokddegi folk songs, the Gwanno mask drama, oral narrative poetry, and various popular pastimes. The Nanjang market, Korea's largest outdoor marketplace, is today a major element of the festival, where local products and handicrafts are sold and contests, games and circus performances take place.
The four-week long festival begins with the brewing of a sacred liquor and the Dano shamanistic rituals, in which a central role is played by a sacred tree, the sinmok, and the hwagae, a ritual object made of feathers, bells and bamboo wood. One of the specific features of the festival is the coexistence of Confucian, shamanistic and Buddhist rituals. Through the rituals devoted to the deities, the region is believed to remain unaffected by natural disasters, allowing all its residents to live in peace and prosperity. Every year, a large number of visitors attend the various ritual performances and actively participate in events such as making Danoje festival fans, brewing the sacred liquor, drawing masks for the Gwanno Mask Drama, preparing and eating Surichiwi rice crackers and washing their hair in Iris water.
The Gangneung Danoje Festival enjoys immense popularity. However, cultural standardization and increased media coverage over the years have resulted in the loss of some traditional elements of the festival. In the traditional context of the festival, one of the functions has been to transcend social differences by allowing people of all social classes to participate.