Fechas de implementación
01/05/2016 - 01/07/2017
Contacto
UNESCO Office in Mexico, Sindicato Nacional de Trabajadores de la Educación
Project Goal
Establish strategies for primary school teachers to increase the teaching quality of indigenous education in the classroom.
Description
The Guide for teachers of indigenous education is the result of a collaboration between the Mexican National Union of Education Workers (SNTE) and the UNESCO office in Mexico. The project was implemented through a cooperative process with the participation and consultation of indigenous teachers. To this end, a team of specialists from the areas of ethnography and pedagogy was formed based on the principles of collaborative anthropology. This group observed the teaching practices of first and second grade primary school teachers. Indigenous education institutions were selected from the states of Baja California, Chiapas and San Luis Potosí, which as a whole are representative of the diverse educational, social and linguistic contexts that characterise indigenous education in Mexico.
It was determined that the communities would define their needs, report their experiences and propose solutions to the problems identified. Teaching practices were documented with a view to identifying successful experiences and challenges of indigenous language teaching. The guide was developed based on the analysis of these activities and comprises a theoretical framework, a methodological proposal and didactic activities that promote the active participation of students in their indigenous language and in Spanish. It also includes teaching materials that indigenous education teachers can adapt to their specific school context, different rhythms and styles of learning and levels of bilingualism.
Take a look an example of a lesson plan developed based on the guide: Lesson plan - Measuring using body parts.
Use of oral traditions for indigenous education
In this way, the guide compiles activities related to traditional knowledge concerning personal and community identity, and the territory and its natural resources, as well as on local history and education for sustainable development. It provides pedagogical support for intercultural education in the indigenous schools of Mexico while also constituting a tool for its strengthening. Broadly, this project aims to foster reflection spaces in Mexico, Latin American and worldwide, and establish constructive dialogue for the integral development of people around the globe.
Contribution to the sustainable development goals
| Goal/Target | How the teaching guide addresses the target |
| --- | --- |
| Goal 4 Quality education, target 4.1 By 2030, ensure that all girls and boys complete free, equitable and quality primary and secondary education leading to relevant and effective learning outcomes. | The guide has been designed to promote the teaching of the mother tongue in the first years of primary education. This contributes directly to this target, in terms of equity, relevance and educational quality. |
| Goal 4 Quality education, target 4.3 By 2030, ensure equal access for all women and men to affordable and quality technical, vocational and tertiary education, including university. | By establishing the basis for learning the mother tongue at the primary education level, students develop thinking and communication skills that allow them to have better performance and educational achievement at higher levels of education. |
| Goal 4 Quality education, target 4.5 By 2030, eliminate gender disparities in education and ensure equal access to all levels of education and vocational training for the vulnerable, including persons with disabilities, indigenous peoples and children in vulnerable situations | The guide has been designed to promote the teaching of the mother tongue in the first years of primary education with an intercultural approach and therefore directly related to this goal. |
| Goal 4 Quality education, target 4.7 By 2030, ensure that all learners acquire the knowledge and skills needed to promote sustainable development, including, among others, through education for sustainable development and sustainable lifestyles, human rights, gender equality, promotion of a culture of peace and non-violence, global citizenship and appreciation of cultural diversity and of culture's contribution to sustainable development. | The guide has been designed to promote the teaching of the mother tongue in the first years of primary education with a focus on interculturality and with attention to cultural diversity, considering it can be applied in indigenous schools throughout the country in which a diversity of indigenous languages and their variants are still preserved. |
| Goal 4 Quality education, target 4.c By 2030, substantially increase the supply of qualified teachers, including through international cooperation for teacher training in developing countries, especially least developed countries and small island developing States | The guide has been designed as a didactic tool so that teachers of indigenous schools that teach at the primary education level can promote the teaching of the mother tongue with an intercultural approach and attention to cultural diversity. |
| Goal 15 Life on Land, target 15.9 By 2020, integrate ecosystem and biodiversity values into national and local planning, development processes, poverty reduction strategies and accounts. | The activities outlined in the guide promote the transmission of indigenous knowledge in practices concerning the care and respect for the environment. |
Output
Publication of a teaching guide assembled by a group of anthropologists, teachers of indigenous education and the school community. It includes a theoretic framework, teaching methods and activities related to traditional knowledge.
Testimonial from a teacher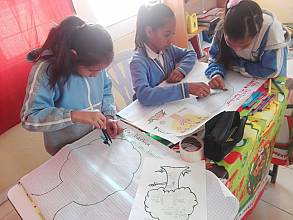 Estudiantes escriben sus autobiografías en Hñähñu durante el desarrollo de una actividad dirigida por el maestro de educación indígena Juan Damián Silla Palma, basada en una ficha didáctica tomada de Estrategias Didácticas: Guía para Docentes de la Educación Indígena.
© Juan Damián Silla Palma and Adán Lora Quezada, 2019
Juan Damián Silla Palma, Indigenous Teacher (Hñähñu and Spanish)
How did your students respond to the lesson plan?
Applying the teaching resources proposed by 'Didactic Strategies' throughout several classes allowed the students to reinforce their identity in their indigenous communities as they put into practice more regularly their second language, thanks to the two-way immersion method. This allowed the development and achievement of different activities that provided significant learning outcomes, as well as achieving the involvement of parents.
Do you think this resource is an effective tool to safeguard indigenous languages?
The Guide is a tool that allows students to know their social and family context beyond what they live in their daily lives, in which it is encouraged to implement the use of their second language to express themselves, to communicate and to exchange knowledge that helps to safeguard their native languages, as it contributes to promote the identity of indigenous peoples.
The teaching resources contain aims and learning outcomes that students should achieve as they are applied. This allows us to analyse, reflect upon and transform the ways they are communicating so that it has an impact on the community, contributing to strengthen their indigenous languages and safeguarding them for future generations.
Would you like to share an anecdote related to your experience?
This anecdote was during the development of the didactic sheet: 'A walk through my community'.
(…) they began to ask several questions about the community, the animals, the plants, the ways of working, the threats that existed. During this conversation and exchange, the parent shared his knowledge with my students in his first language, Hñähñu. I watched as the students showed interest in learning about their community (…)
He taught us about some plants that have healing functions, about the extension of the territory of the community and what was beyond. The students collected samples that were interesting for them and kept them in bags they brought to show their parents later or to place in the classroom museum.
Upon returning to the classroom we shared the experience of the walk through our community. The students stated that they enjoyed knowing more about the community and sharing such experience (…)
It was encouraging to see how the parent shared his experience as a child and adult in the same community, to see how students appreciated and understood the stories they were told in the indigenous language and how they expressed certain questions that responded to the objectives proposed by the teaching resource.
The content of the projects and documents referenced in this platform do not imply the expression of any opinion whatsoever on the part of UNESCO, including designations employed concerning the legal status of any country, territory, city or area or of its authorities or concerning the delimitation of its frontiers or boundaries.